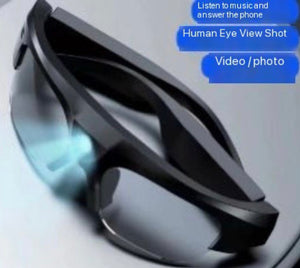 Multifunctional sunglass with build in video and audio
Capture 4K video& photos , answer mobile, listen music  while on the go.
Built-in microSD card slot, supports up to 128GB of storage,
Easy to use, with simple controls that allow you to start and stop recording at the touch of a button.
Application:
Adventure such as hiking, biking, or skiing.  or recording events such as concerts, sports games, and family gatherings.
Features:
HD video: Record video in 1920 * 1080P resolution and H.264 compressed format, and then click the button to easily capture high-definition video. Better image quality, enhanced low light performance, and low power consumption.
Fast action 30FPS: Record video at a high frame rate of up to 30 frames per second to obtain smoother video clips. Record at a speed of 30FPS in 1080P mode, without delay or tailing when riding outdoors; The 90 ° wide-angle lens makes the video vivid by capturing more areas in the video frame.
Take a picture: When taking a video, press the operation button once to take a picture. The glasses will vibrate to let you know that the photo has been taken. The time/date stamp displays the current time/date on the photo/video. Y indicates the time and date. You do not need to display the time and date as N, and 3 indicates the minutes of the video, which can be changed to 3 to 6 minutes.
Long term use: The fully charged glasses camera can record about 120 minutes of video. It has been used for a long time and is a practical tool in the field of outdoor sports such as horse riding, archery, hunting, fishing, traffic police, tourism and life. It is very suitable for fast action shooting and recording, recording every unforgettable moment in real time.
Maximum memory: 128GB TF card is supported at most (the memory card is not included in the software package). Note: Before using 64GB and 128GB memory cards, you must use the formatting tool to format the TF card.
Specifications:
Video format: MP4
Video coding: H.264
Video resolution: 1920 * 1080
Video frame rate: 30FPS
Playing software: audio and video playing software included with the operating system or mainstream
Picture format: JPG
Prime number of lens: 8 million
Image scale: 4:3
Photo pixel: 3840 * 2160
Support system: for Win7/for WinMe/for WinXP/for Windows2000/for Vista/for Mac Os10.5
Battery capacity: 850mAh
Endurance: 2 hours
Charging time: 2H
Charging voltage: DC-5V
Charging port: MicroUSB
Battery type: polymer lithium battery
Storage support: MicroSD (TF) 32GB, 64GB, 128GB (not included)
Product size: about 177mm * 167mm * 46.5mm/6.69 * 6.73 * 1.89in
Product weight: about 63g
Operating temperature: - 5 ° C-40 ° C
Working humidity: 20% - 80%. Do not put the product in a damp working environment. The product does not have waterproof function
Packing list:
1 * Camera glasses
1 * Storage box
1 * Cleaning cloth
1 * User Manual
1 * MicroUSB data cable